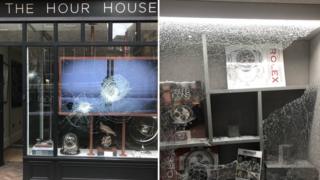 Made in Chelsea's Spencer Matthews had to hide in a jeweller's shop vault as a moped-riding gang carried out a smash-and-grab.
The reality TV star said he was at the Hour House in Duke Street, Marylebone, when armed robbers struck at 10:30 BST.
Matthews, who was unhurt, said they drove through a window before "battering the shop with big huge hammers".
Three men arrested on suspicion of armed robbery and remain in custody.
Matthews said the gang did not take a watch he had gone to collect.
He said the 1991 Rolex Daytona Zenith timepiece had been the only item left behind after the raid.
In a post on Instagram stories, he said: "I was there picking up this vintage piece that I'd been waiting for for ages and these guys drive a scooter through the glass and start battering the shop with big huge hammers.
"We're in the back of the shop looking at them, sprint downstairs, hide in the vault until all the noise passes," he said.
"Come upstairs, the place is just battered and I mean gonzo all the watches have gone, everything."
In the aftermath of the raid, Matthews said he and his friends were looking for his watch.
"Lo and behold, on the floor amongst all the rubble, the glass and stuff, was one watch in the entire shop and it's mine," he said.
"Now if that's not luck I don't know what is."
Speaking to reporters outside the shop, Matthews said it was owned by a friend and had been broken into "several times" before.
"I felt bad for the young lady who was working the desk at the time. It must have been quite scary to see it happening," he said.
He said he had been in with his son days before but would "think twice" before taking him again.
"London in particular is dangerous at the moment," he said.
Thames Valley fire service engineer Paul Starck said one of the men attacked his van window with a machete.
He was driving near to the shop when the group did a U-turn on the road close to him, prompting him to call police.
"That's what instigated them to have a go at me," he said.
Mr Starck, 43, from Sandhurst, said one of the men banged a machete against the window on the driver's side of the vehicle he was in, smashing the glass.
"I've never been so scared in my life. He had no care in the world, the chap.
"He ran after a load of people that were standing here first of all, then he went for someone in a black car that was here.
"And then he obviously knew that I was on the phone to police and at that point I started to move off… and then he just went for me."
Mr Starck added he was treated by paramedics after glass went into his eye.
Another witness, who did not wish to be named, said the raid lasted about three or four minutes and the police arrived about five minutes afterwards.
"They got away with something. They came out with a bag," he said.
The force said it was too early to say if there was any connection to an armed raid on a jewellers shop in Maida Vale last week.